THE PACKHORSE
OLD SCHOOL HILL
SOUTH STOKE
BATH
BA2 7DU
TEL: 01225 830300
Email: info@packhorsebath.co.uk
Facebook: @packhorsebath
Instagram: @packhorsebath
Twitter: @packhorsebath
OPENING HOURS
Open at 11.30hrs seven days/week.
Close at 2300hrs (Mon-Sat) and 2000hrs (Sun)
Lunch service 1200-1430hrs (Mon-Sat); 1200-1700hrs (Sun)
Dinner service 1800-2130hrs (Mon-Sat). No dinner service on Sundays.
For dinner party bookings of 8+ a menu pre-order and a £5 deposit per person (non refundable) is required to secure the booking. Please contact the team on (info@packhorsebath.co.uk, diana@packhorsebath.co.uk)
Please enquire about private room hire (corporate/team days and evening dinner/social). See here for more info.
PARKING
As there is very limited parking at the pub and in the village, visitors to the Packhorse are encouraged to park on Midford Road and enjoy a gentle stroll down South Stoke lane into the village. Please only use the car park for your specified booking time in order to be fair to all of our guests. If you do have to park in the village then please be respectful to the local residents and other road users. Blue badge holders need to let us know in advance so that we can reserve you a space. The ideal way to enjoy all that our pub has to offer is to come by taxi – Abbey Taxi and V Cars are local Bath companies.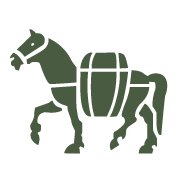 Mark Farrant - The Packhorse is a landmark in the village. I have been visiting it frequently for 33 years. The pub and the church are the only places in the village of South Stoke that are open to visitors and not everyone wants to go to church...