If you've visited the pub since its grand open you'll know that our interiors (and exteriors) are beautiful. We wanted a design to equally respect the age and history of the pub whilst making it fit and comfortable for use today, and the future. Not an easy brief! We were therefore very lucky to find Claire Rendall an exceptional interiors designer who accepted the task. Or you could say Claire found us….
"I met Nick Alexander (Project Team Leader) at a fund raiser in November of 2017 I asked if they had an interior designer for the project. No. Would you like one. Yes please. I was thrilled at the opportunity to work on such a beautiful building and give something back to the community."
Having lived in the area Claire told us that The Packhorse had always had a special place in her heart. "I remember coming in from long walks and enjoying local ale or cider and a doorstep sandwich. It's such a special part of our heritage when so many pubs have become nothing more than restaurants."
Having fond memories is one thing, but did Claire know the full extent of the task ahead?
"When I first arrived at the Packhorse it was in a bit of a sorry state. Ceilings were down, walls stripped back, floors up. Just the way I like it! My discussions with Nick were that it should look as though it hadn't been restored as much as possible. It was a question of "the light touch" keeping as much of the texture and personality of the building as possible. There were areas where this was difficult. The new oak doors. Should we stain them dark, bash them about and make them look 17th century? Or should we install quality new doors and let them age with the building? We decided that fake ageing would be a Disneyfication too far. Better to let the original bashed up areas to speak for themselves and for anything that we introduced to have integrity and be good to go for another 400 years.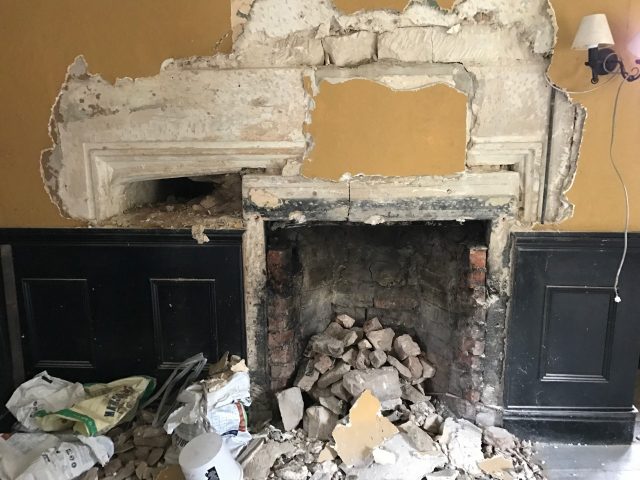 Being a working pub, there were practicalities to overcome. The loos for example needed a flooring that was easy to clean but I didn't want to break the magic of the original elm flooring outside. I chose Kardean, an artificial flooring but with a slight timber texture. For the green room, the original boards were largely missing and there was a sound issue between this and the Tap Bar below. I selected Unnatural Flooring, a faux sisal perfect for food and wine spillages and with a great natural look."
And as we everything we've done so far, our history has informed our future and tapping in to and acknowledging local resources has proved to be a profitable move. Claire says she was grateful to local Jenny Johns who "gave me access to a fabulous archive of photographs from the village along with a couple of boxes of various frames. The images were scanned and printed, the frames I took apart, cleaned, painted satin black and reassembled. "
"For the upstairs I felt we had the opportunity to give each room its own personality. The "red" room feeling like a 17th century dining room, the "green" room, lighter and more applicable for meetings and presentations. For the curtains, I wanted them to just meld into the background, look like they'd been there forever and not shout out that a designer had been on the premises. These rooms are still evolving, there's a lot more dressing which we're in the process of doing and some of the furniture and pictures aren't right. But we're on the case."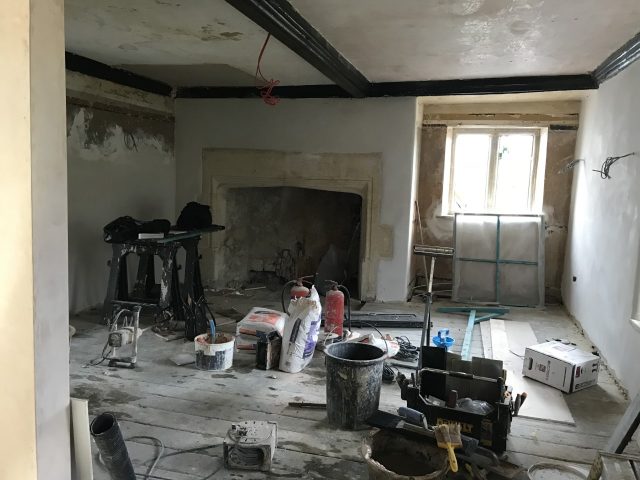 Claire shared her fondest memory of being on this project with us "A few days before the Packhorse opened, I was putting finishing touches to the Tap Bar. An elderly resident from the village came wandering in with his camera. I asked him what he thought. "Well I like what you've done in the other room," he said, "but you've not done anything in here. Perfect. I was delighted, mission accomplished!" With aplomb Claire!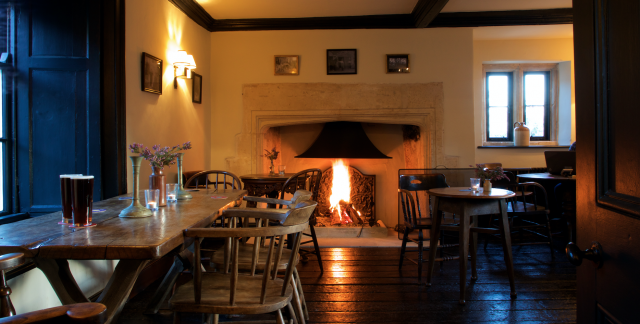 And when she is relaxing at the pub, what might we catch you drinking Claire? "I have a soft spot for otters. The creatures and the beer! It also wouldn't be the Packhorse without a decent cider…" We couldn't agree more. On your design lead or your drink choices!
We thank you.
We would strongly advise a visit to the pub to fully appreciate Claire's work.
#thepackhorsebath