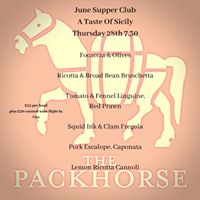 Our popular supper club continues in to the summer months.
Chef Daniel Vosper and his team have created a wonderful Sicilian inspired menu for this month's foodie tasting. Vito has drawn up an equally inviting and perfectly suited wine flight to compliment.
Price: menu only £35, wine flight add £20.
Booking by email only to James at info@thepackhorsebath.co.uk
7.30 start.